Best Practice: 1
Title of the Practice
Popularizing Science to Develop Scientific Temper: A College Science Forum Initiatives
Objectives of the Practice
Generate interest in science, discuss cutting edge development in science and technology, inculcate curiosity in young minds, and propagate scientific literacy.
The Context
The need to perform scientific experiments as hands-on-activity, using easy to understand methodology to inculcate interest in science. The purpose is to ignite curiosity in young minds and to overcome fear and exploitation by dispelling superstition and blind faith.
The Practice
In spite of lockdown and less mobility, college endeavoured to organise various activities such as workshop on solar lamp making, school teachers orientation program, Science Day celebrations on college campus and in tribal areas with the participation of our students and teachers as mentors and trainers.
Guest lectures organised-
Kapil Natu on "Performance Management" (09/08/2020)
Satish Gogate (GM, Mahindra) on 'Modern Era Automation' (27/09/2020)
R. S. Tiwari on 'Technologies for 2021' (17/10/2020)
Bipin Thakur on "A Roadmap Towards Getting Jobs in IT" (24/10/2020)
Sunit Rane (CMET, Pune) on Developments of Electronic Material' (02/01/2021)
Omprakash Kulkarni on 'Role of Physics in Medical Science' (22/01/2021)
Umesh Kakade (Govt. Institute of Science) on 'Opportunities in Life Sciences' (20/02/2021)
K. P. Muthe and Dr. V. B. Channdratre (BARC, Mumbai) on 'Career Opportunities in Physics' (15/03/2021)
Yogesh Kasat (Irvine, California) on "Introduction to ERP and Opportunities" (24/02/2021)
Rahul Saraf on "building Cloud Enabled Software' (25/01/2021)
Mayur Kothawade (Quinbay, Banglore) on "The History and Future of Mobile Development" (26/01/2020)
'Student Solar Ambassador Workshop' organised at Nutan Vidyalaya at Guhi, Taluka Surgana on 07/02/2021 where students were given hands-on-training of solar lamp making along with awareness about energy conservation. 60 students participated. Our faculty interacted with the staff of the school and guided them about conduct of science-oriented activities. During 'Botanica-2021', on 09/02/2021 online experiments were shown to students. Other science related activities like Botanical arts, model /poster presentation, flower arrangement were also organised to boost scientific thinking. A skit, 'Life Story of Albert Einstein' presented by Physics students on the occasion on National Science Day. A study tour to Nehru Science Center, Mumbai was organised by Physics Dept. Dept. of Zoology organised photography competition on "LIFE AMID COVID" during 1 june to 10 june 2020.
Our faculty, Mr. Pravin Joshi participated in Solar Off-grid Entrepreneurship Training Program (16-03-2020 to 20-03-2020) organised by NCPRE, Govt. of India at IIT Bombay.
Evidence of Success
Initiated in 1978, the practice continues till date. The summer-camp is a popular activity and parents are eager to enrol their wards. This year due to Covid-19, this activity could not be materialised in the fullest way. However, in the given circumstances guest lectures are well attended with interactive participation. This year 60 students participated in solar making workshop. More than 2500 students attended the tribal area Science-camp till now. This year 253 students participated in Botanica festival and 360 students attended guest lectures conducted different dept. 85 students participated in visit to Science centre. 79 participants from all over India contributed 186 photographs in the Photo competition of Zology dept. (for more details https://docs.google.com/document/d/15ctRDRPpBfLM2_a0Uq4cNV2ZpQ1dpVW5/edit). All events were reported in newspapers. It was possible for college to reach out to students and society at large only by using technology even during pandemic situation.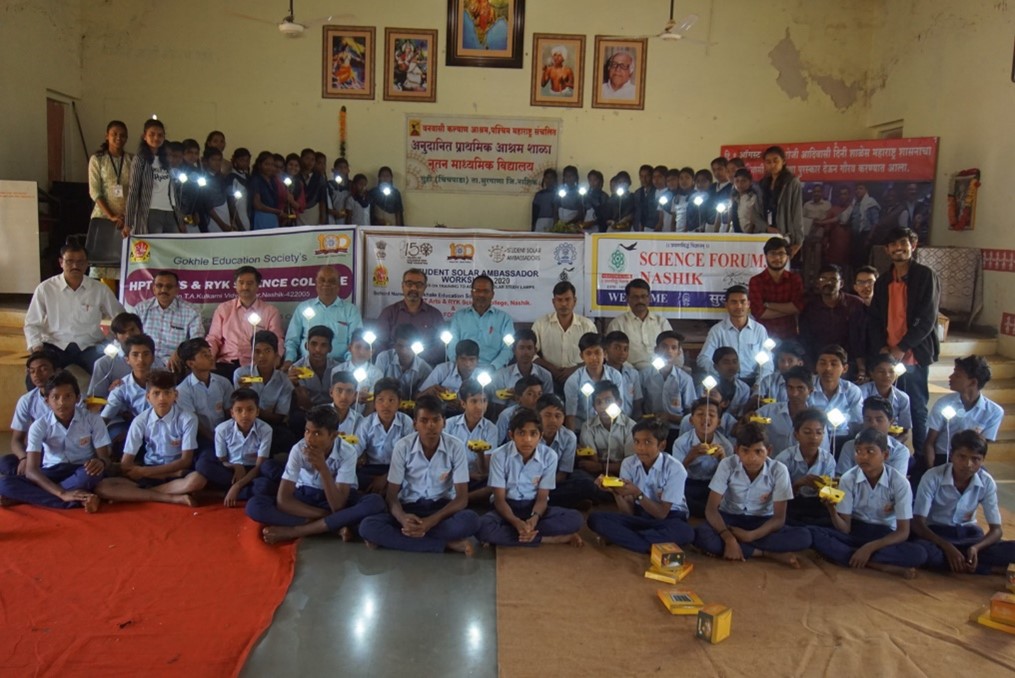 Student Solar Ambassador Workshop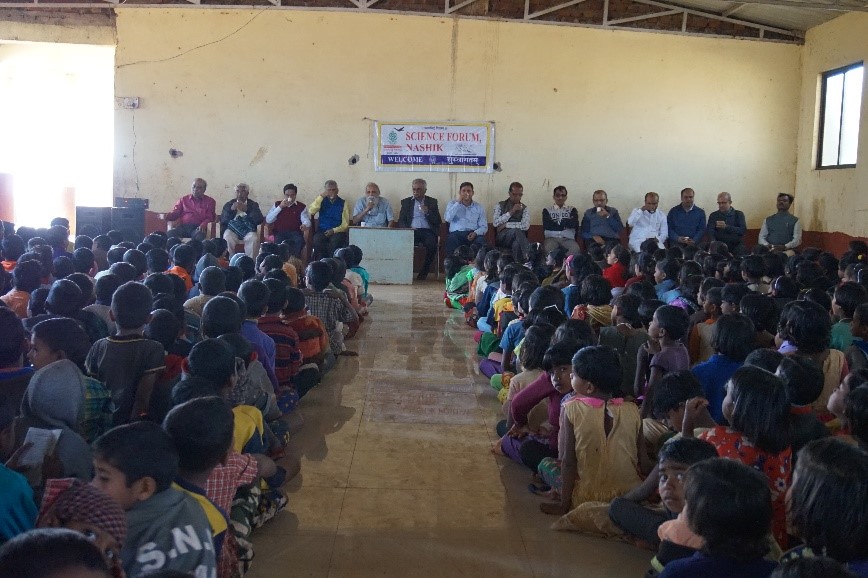 Science Forum Lecture for Tribal Students
Problems Encountered and Resources Required
The contemporary Covid-19 situation was biggest hurdle for implementing these activities. Most of the schools and college in Nashik city were closed. Hence, certain activities were conducted only in rural/tribal area. Traveling was difficult for students, faculty and experts. To counter these issues, ICT and other media were used for impactful interactions. Physical seminars were replaced by webinars, regular posters/models gave way to digital modes. Online platforms like Zoom, Google Meet or even YouTube were frequently used to conduct these activities. Enthusiastic participation of students, school-children and teachers, even during the toughest time, was the real resource behind success of these programmes. Conducting these activities was a delightful engagement for teachers and students when things were dark and gloomy outside. These activities could create a positive impact on the stakeholders as well as organisers, proving college's motto to find 'Quest for Best.'
Notes
The practice directly addresses to two core values of NAAC namely fostering Global competencies among students and inculcating a value system among students. Scientific activities lead to the development of logical attitude and critical thinking, which can be the decisive competency to get recognition at the global levels.  It also imbibes the spirit of research and inquiry among students right from the undergraduate days. Along with this, engagement of students in practical experiences, workshops, field visits, management of events are ensured through activities of Science Forum. Students are exposed to the world outside the classroom and knowledge outside the books. This aspect of experiential learning helps in the development of values like leadership, team work, conflict management, communication skills and industriousness.  Thus this practice takes care of NAAC core values.
Best Practice: 2
Title of the Practice
Use of ICT for effective teaching-learning interaction, including e-content production.
Objectives of the Practice
Keeping academic process on track during Covid-19 situation. Stimulating students to participate in teaching-learning process during the pandemic. Taking care of mental health of students by creatively engaging them in academics. Generating interest in fresh students about higher education scenario and introduce them to CBCS. Finding alternative and effective ways of delivering curriculum to students, especially to those who are less privileged.
The Context
During first lockdown in 2020, college teachers prepared e-lectures and shared. Entire college schedule, university examination came to standstill till June 2020. On this backdrop, college decided to reach out to students through different types of e-content, academic and emotionally appealing. During the process of unlocking, college decided to use ICT not only for lectures but for other college activities. This recolouring of earlier events into virtual reality was an experience itself. Right from staff meetings, webinars, competitions, cultural events and prize distribution was held online. Teachers indulged themselves in creating impact-making content by using platforms like YouTube. Even in a short phase when college reopened for students in February-2021, college used ICT along with classroom-teaching to avoid loss of those who could not come. Due to Covid-19, earlier best practices were halted and new ones need to be established. Our college used this challenging situation to find new ways.
The Practice
Describe the practice and its uniqueness in the context of India higher education. What were the constraints / limitations, if any, faced (in about 400 words)?
In the wake of Covid-19. Quality e-content production was necessary as all offline academic interaction was halted. With IQAC's initiative, teachers could produce online sessions, with the help of PPTs and other user-friendly softwares. Some teachers even attended FDPs and workshops for developing e-content. They shared their knowledge with other teachers. By using platforms like Google classrooms, Google groups and WhatsApp groups, this e-content was delivered to students. Resource Material and Question Bank were made available on college website for students' facility. E-content of some teachers is endorsed by university and was uploaded on university website. Internal assessment and even the final exams for some papers were conducted online by using popular tools like Google Forms. Apart from lectures, college produced e-content useful to students while taking admissions or issues faced during lockdowns. Resource material, question bank, live interaction with students ensured that teaching-learning process did not hamper completely. Further, the college went on to conduct seminars, guest lectures, cultural events and competitions to hon talents for the physically locked and mentally down students. Even Certificate Courses were conducted through online mode. That immensely helped in keeping students positively engaged. College thus made a full use of online modes and created synergy even in the difficult times. College staff meeting and departmental meetings were held in online mode. Interaction with students in the form of meetings, induction programme were also effectively conducted. Blending learning proved to be effective strategy for facing unimagined situation.
Evidence of Success
The college as a unit and teachers at individual levels took great efforts to establish use of ICT as a practice.
Youtube channels
Wise Words CLAS: Dr. Pranav Ratnaparkhi- 17 videos, 434 subscribers
(https://www.youtube.com/channel/UC6YpGtd5qe4nxZHd0uZvcsg/videos)
Blogs and Sites
E-content Created by teachers (samples)
Problems Encountered and Resources Required
There were manifold issues countered while introducing ICT for blended learning for all students in college. The technological infrastructure was not adequate at the beginning. The college infrastructure was idle for in the previous year. Hence it required updation. Teachers also used their individual resources to compliment the college facilities. At another level, many students did not have required internet connections or in some cases smartphones. Some students, out of the town, could not easily get connected due to their physical location disadvantage. In such cases, teachers provided recorded lectures instead of live sessions, helping students to learn at his/her pace and availability of internet. The resource material on the college website and shared through google classroom ensured that students would not suffer academic loss even if they are away from the college. Conduct of online examination also facilitate students to complete university evaluation timetable on time. The college constantly updated its resources including use of online workspaces, updation of websites, use of various social apps to reach out to the students.
Notes
The practice is directly in alignment with the NAAC core value; promoting the use of technology. Even though, use of ICT for effective teaching-learning interaction at all levels has emerged out of Covid-19 compulsion, it created a long-lasting impact on the college academia. Teachers are more confident in the use of ICT as well as students who were not exposed to technology till now. Adversity turned in opportunity, use of ICT would definitely help teachers in their research and in learning new competencies from better classroom interaction. Students who are more exposed and well-versed with ICT would know the nuances of it and can make better use of it for their academic as well as personality development.  The practice endorsed by college to promote the use of ICT is a small but confident step towards Digital India.